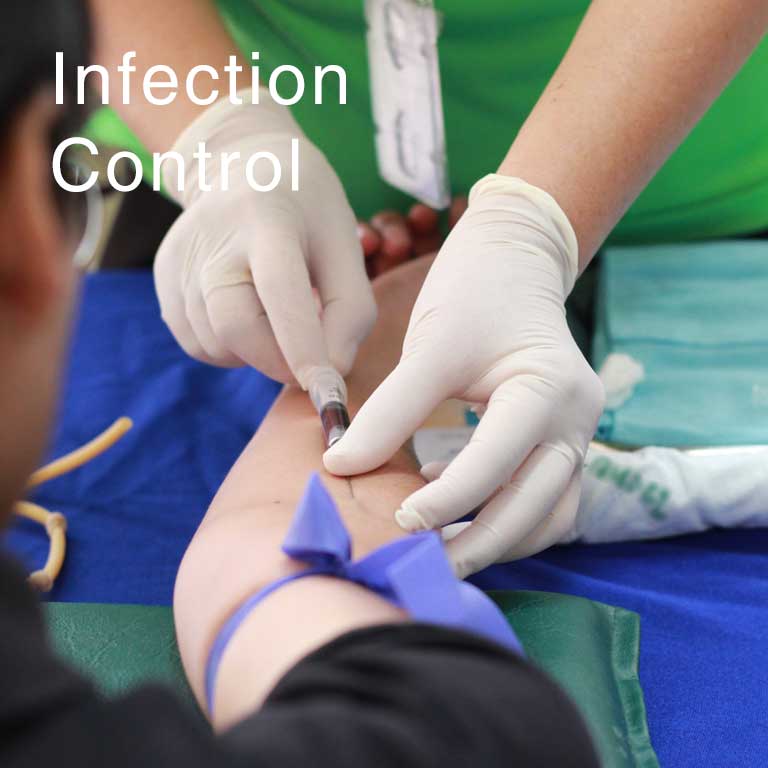 Infection Control - Modus Operandi
Hospital infections are an important cause of morbidity & mortality in the current day scenario. They significantly prolong the hospital stay & add to health care expenses. The most effective way to battle them is to prevent them.
North City Hospital & Neuro Institute has a comprehensive programme from our past experience we have evolved policies & stream lined relevant procedure.
Nosocomial Infections are defined as infections acquired during or as a result of hospitalization. Patients neither have these infections nor are incubating these infections on admission. Generally, a patient who develops an infection after 48hrs of hospital admission is considered to have a Nosocomial infection. However some Nosocomial infections may not manifest as disease immediately & can manifest even after discharge after 30 days.
Hospital infections are mainly exogenous.
Sources are
Hospital ECO Systems – Iatrogenic – Opportunistic Infection
Hospital Eco Systems include:
People – Staff Visitors – Other Patients
Objects – Bedding Linen – Utensils
All these inanimate objects act as fomite
Iatrogenic
It includes infection induced by some diagnostic or therapeutic interventions.
Opportunistic Infection
Overall immune status being poor, they are more prone to develop infection from relatively non-virulent microbes.
Predisposing factor for occurrence of hospital infection
Hospital environment is heavily laden with wide variety of pathogenic organisms. The source being patients and hospital personnel's
Many patients have impaired immunity due to their disease or therapy administered.
Hospital Infections are generally more serious and refractory to treatment as the infecting agents are resistant to most antibiotics in common use.
Microbiology of Hospital Infection – Any pathogen can cause hospital infection.  But those that are able to survive in the hospital environment for long period and develop resistance to antibiotics and dis-infectants.
Most Common Organisms
Streptococcus pyogenes
Staphylococcus Aureus                                      
Staphylococcus Epidermidis
Enterobacter sps.
Escherichia coli
Klebsiella
Proteus sps
Pseudomonas sps
Hepatitis B virus, Hepatitis C virus
HIV
Viruses causing diarrhoea
Infection Control Committee
Chair: Microbiologist
Committee member
Microbiologist
Infection Control Nurse
Medical Director
GM- Quality Assurance & Accreditation
Medical Superintendent
Manager Operation
Matron
OT in-charge
CCU Nursing in-charge
NABH Coordinator
Goals of Hospital  Committee
To develop written policies & procedures for standards of cleanliness, sanitation & asepsis in the Hospital
To ensure education of employees on different aspects of infection control
To provide surveillance for nosocomial infection
The main functions of the infection control committee are to:
Advise and support the infection control team.
Draw to the attention of the Managing Director, any serious problems or hazards relating to infection control.
Consider reports on infections and infection control problems.
Function of Committee
Chair Person
Shall preside over all H.I.C.C. meeting.
Act as liaison between the committee and the hospital administration.
Constitute expert committees/ sub committees for purposes related to the investigation or control of infection or to antibiotic policies.
Receive surveillance report and other hospital acquired infection related information & assists to initiate appropriate action.
Incharge Hospital Committee / Consultant Microbiologist
Assist MS in identifying, reporting, analyzing, investigating & controlling hospital acquired infection.
Supervises preventive & corrective programmes carries out other responsibilities given to In-charge HIC by the MS and activities given by In-charge HIC.
Infection Control Nurse
Infection control nurse is a graduate nurse with gained by experience. She supervises the staff in daily activities to assure appropriate precaution/ techniques are observed:
Waste segregation.
Sharps handling and disposal.
Adherence to hand hygiene guidelines.
Use of appropriate personal protective apparel.
She undertakes a daily ward round of all units& maintains the weekly round report of all units.
ICN maintains a record of environmental surveillance.
ICN maintain a record of status of admitted patient, nosocomial infection surveillance & prepares a monthly report of infection control.
She maintains a record of needle stick injury and appropriate vaccination status of all health care workers.
Infection Control team
Consultant Microbiologist
Infection Control Nurses
The functions of the infection Control Team are to:
Education of staff in infection control procedures.
Preparation and review infection.
Implementation of this programme in liaison with other staff and provision of regular process reports to the Managing Director of important incidents, lessons learned and surveillance and audit results.
Provision of an annual report to the Board on the results of the programme, indicating achievements and drawing attention to any matters of concern. Of policy documents in liaison with other relevant staff.
Liaison with the Management department with regards to Quality Control assurance.